Is Buying a Rolex a Good Investment?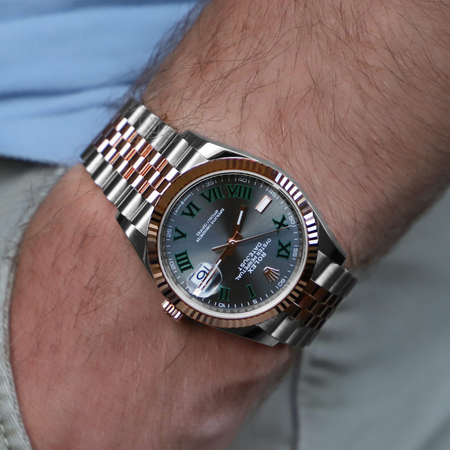 IS BUYING A ROLEX A GOOD INVESTMENT?
Rolex watches are a symbol of success. For many, they represent the pinnacle of luxury and style. But with some models costing as much as $20,000 or more, it's hard to tell if buying a Rolex is a good investment.
To help you decide whether Rolex is right for you, we took a deep dive into the company's history and discovered why Rolexes are so special and what makes them such an investment that can last a lifetime (or even longer).
We also analyzed how your purchase will fare over time on resale markets like eBay and other online Pre-Owned Dealers. So read on to learn about what sets Rolexes apart from other top-tier brands — and see if buying one might be a good deal for you, after all.
Largest Selection of Pre-Owned Rolex Here
BRIEF ROLEX HISTORY
The Rolex Company, Rolex SA, is a privately-owned international company founded in 1905 by Rolex founder Hans Wilsdorf and his partner-to-be Alfred Davis.
Rolex watches started in 1908, with Rolex being the original producer of wristwatches as we know them today. It originally started as a luxury good timepiece retailer specializing in high-quality Swiss timepieces.
ROLEX DESIGN
Rolex watches were designed to be durable and reliable for the demands of underwater exploration (Rolex was the first watch brand to create a certified divers' watch).
These purpose-built sports models are equipped with their own timing devices. This is used for competitions. Rolexes are made of high-quality, corrosion-resistant stainless steel and gold materials.
Rolex devised the "perpetual" rotor that makes automatic winding possible with a swinging weight. This piece of metal pivots on a jewel bearing and rotating about the axis of the watch's movement as its mainspring unwinds.
LIFETIME INVESTMENT
Rolexes last a lifetime if taken care of and sold as luxury goods as they retain their value over time. Their worth has been increasing over time with the passage of years.
Considered a signifier of success, Rolex is never going out of style. These watches also offer variety, complexity, and personalized service for a price that is significantly lower than other luxury watch brands.
Simply put, Rolexes symbolize success and pride to those who buy them. If you want this from your purchase, then Rolex may be for you.
ROLEX RESELL MARKET
It makes sense that Rolexes are worth more than their original purchase price once they're older. They sell for a higher price on the Rolex resale market. They do not depreciate in value as other luxury watch brands do.
Is buying a Rolex a good investment? Rolexes can be worth over $100,000, and Rolex has the highest resell rate of any luxury watch brand online.
Rolexes are an investment in themselves, and Rolex deserves its prestigious reputation as a luxury timepiece. Rolex watches last a lifetime so if you take care of them. They will serve you for at least that long or maybe longer.
We Pay the Most for Used Rolex