Rolex & Watch Repair
Services in Largo
What are the costs of Watch Repair in Largo?
Our watch experts can repair any type of watch, including makes such as Rolex, Patek Phillipe, Movado and more. Click the Arrows for Repair Pricing:
Battery Replacements

$12+
Add/Remove Watch Links

$10+
Replacement Pins

$5
Rolex Servicing

$400+
Pressure Testing

$75+
Rolex Polishing/Buffing/Detailing

$150+
That depends on the make of your watch. Below are starting prices for watch battery replacements:
BATTERY REPLACEMENTS: $12+
ADD/REMOVE WATCH LINKS: $10+
REPLACEMENT PINS: $5
ROLEX SERVICING: $400+
PRESSURE TESTING: $75+
ROLEX POLISHING/BUFFING/DETAILING: $150+
A Rolex service should be done every 3-5 years to keep it in tip-top shape. Servicing starts at $400 and goes up from there, depending on various factors. The turnaround time is usually 2-4 weeks. Arnold Jewelers is happy to service your Rolex watch in the Tampa Bay area.
At Arnold Jewelers, we have a full in-house repair department with Master Jewelers on hand to repair, restore or rebuild any piece of jewelry you have. We also have a 90-day guarantee on all repairs. All of our jewelry and watch repairs are done in-house by one of our Master Jewelers. Your beloved items never leave our store.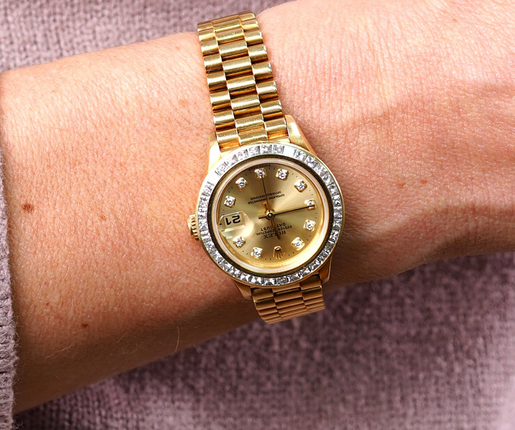 Looking to Invest in Rolex?
We have the largest selection of pre-owned Rolex watches!
Visit our Watch Repair Shop in Largo!