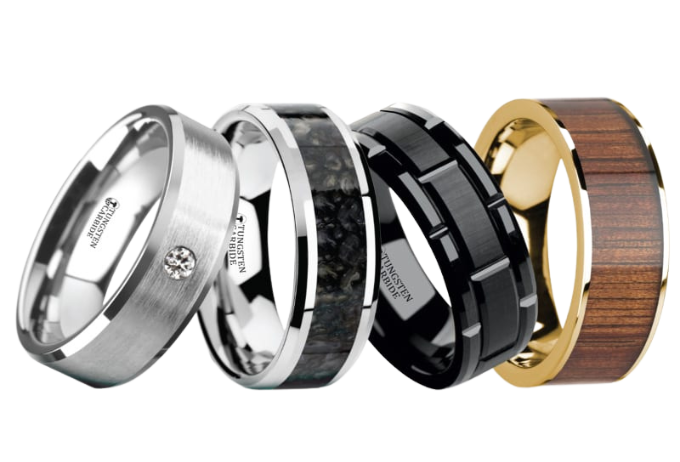 Order Your Tungsten Wedding Band
Durable Build. Sleek Designs. Lifetime Guarantee.
WHY TUNGSTEN MEN'S RINGS?
PLATINUM, SILVER, OR GOLD RINGS HAVE THE ABILITY TO SCRATCH, DENT AND BEND EASILY. TUNGSTEN MEN'S RINGS DO NOT BEND AND WILL REMAIN TO LOOK EXACTLY AS BEAUTIFUL AS THE DAY YOU FIRST BOUGHT IT. TUNGSTEN IS A HARDER AND DENSER METAL. YOU CAN FEEL THE QUALITY IN THE HEAVIER WEIGHT OF TUNGSTEN. WHEN YOU COMBINE THE SOLID WEIGHT AND EVERLASTING POLISH OF TUNGSTEN TOGETHER IN ONE RING, YOU PRODUCE A PERFECT SYMBOL OF YOUR LOVE AND COMMITMENT.
WHAT DOES YOUR LIFETIME WARRANTY COVER?
OUR LIFETIME WARRANTY IS THE MOST COMPREHENSIVE IN THE BUSINESS. IF ONE OF OUR RINGS SHOULD BREAK OR CRACK DURING THE COURSE OF YOUR LIFETIME, WE WILL REPLACE IT. IF YOUR FINGER SIZE CHANGES WE WILL REPLACE IT FOR AS LONG AS YOU OWN THE RING. THERE IS NO COST TO REPLACE THE RING ITSELF.. FOR COMPLETE DETAILS, PLEASE SEE OUR LIFETIME WARRANTY PAGE.