Vintage Art Deco Jewelry: 1920s Bold Designs and Radiant Colors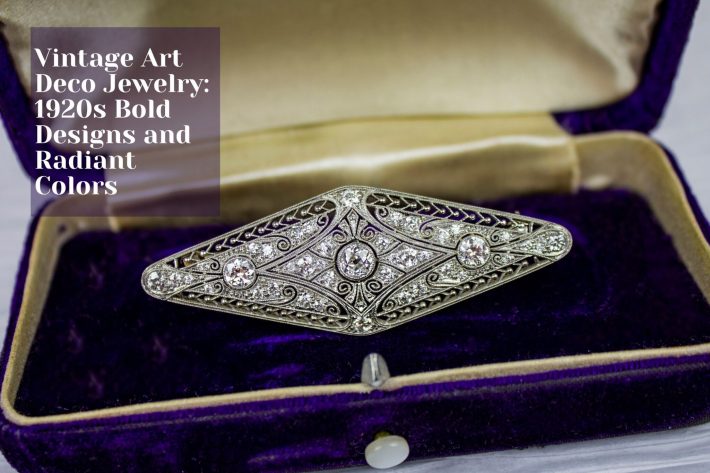 Vintage Art Deco Jewelry: 1920s Bold Designs and Radiant Colors.
The 1920s brought great change in the world. The economy was booming, and people felt confident that they could take on anything. This confidence reflected in their clothing styles. This style became more streamlined and modern. But art deco jewelry is not all about bold colors and geometric shapes; it also has a softer side to it with graceful curves. In this blog post, we will explore some of the history and designers that shaped the art deco jewelry we love so much today!
THE HISTORY OF ART DECO JEWELRY IN THE 1920S
By the 1920s, art deco jewelry became more popular. Jewelry companies started moving away from traditional styles and began making pieces that were influenced by cubism and futurism. One of the most noticeable changes in art deco vintage rings was simply how bold they became with their use of color. These works were often created with the collaboration of craftspersons who were not exclusively practicing the jewelry arts. Architects, painters, sculptors, an entire community of artists, shared ideas and designs, enriching each other's disciplines and providing inspiration from an array of new sources.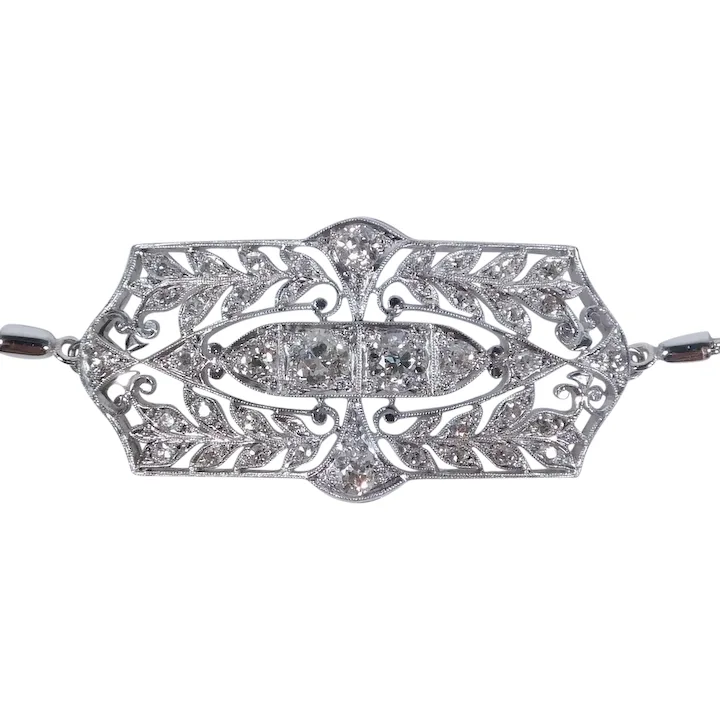 GEOMETRICAL JEWELRY DESIGN THAT SHAPED AN ERA
Art deco jewelry were often designed with geometrical shapes and filigree. Geometric jewelry designs can be seen as asymmetrical or symmetrical, angular or curvilinear lines repeated throughout the piece's design to create a sense of order and balance. This area's geometric patterns influenced jewelry designs. A genre of the design was born with clean lines and geometric shapes.
COMMON MATERIALS THAT WERE USED FOR ART DECO VINTAGE RINGS IN THIS ERA INCLUDE:
gold and silver
platinum, brass, or bronze with a rhodium plating to prevent tarnishing
diamonds on the face of the ring from all angles – not just one side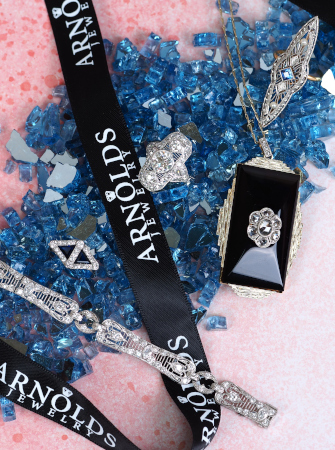 HOW THE STOCK MARKET CRASH OF 1929 AFFECTED JEWELRY AND FASHION.
The stock market crash of 1929 caused a major economic downturn and led to the Great Depression. This had a significant impact on fashion trends for years following, with designers trying to adapt their look to stay current while still maintaining sales. Fewer people could afford jewelry during this time period, so many designers took advantage of cheaper materials such as bakelite to imitate vibrantly colored gemstones.
Designers such as John Held Jr. adapted their designs to stay current in an era of economic depression and paved the way toward a more streamlined, clean style that became popular following WWII.
TWO SCHOOLS OF ART DECO JEWELRY DESIGN
Bijoutiers-Artistes was the first school of Art Deco jewelry designers.  He had a classical art history or design education from the Ecole des Beaux-Arts. This experience mainly came to them as apprenticeships with other famous Paris architects, sculptors, painters, and jewelers. They placed more emphasis on the design rather than the intrinsic value. To that end they use gemstones sculpturally, carving them into various geometric artworks using diamonds and other faceted gems as punctuation rather than the main focus.
The bijoutiers-joailliers were the second group of jewelry designers. They focused on creating geometric designs including precisely cut gemstones surrounding a center diamond. As time went by they added trapeze, half-moon, triangle, and other unusual diamond cuts to their repertoire. This school used new metals and modern machinery to create these new bold geometric designs.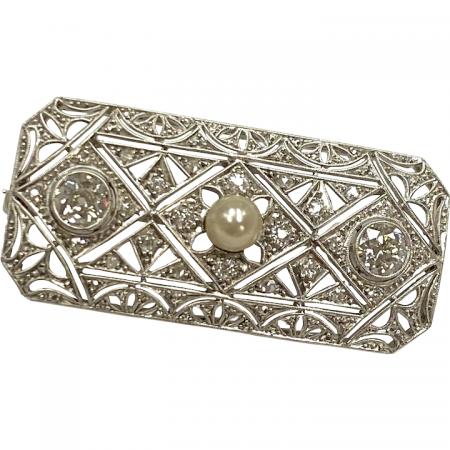 JEWELRY DESIGNERS OF THE 1920S
The jewelry design scene in the 1920s was a blend of different countries. France, Russia, and Czechoslovakia heavily influenced art deco designs.
Another major artist from this time period is René Lalique. He designed costumes for the Ballets Russes company along with his own line of jewelry pieces that he sold the designs of to Jacta, Cartier and Boucheron.
Cartier was at the forefront of Art Deco jewelry innovation. Cartier designed a line of jewelry for Elsa Schiaparelli's boutique. The designs were an important part in developing Art Deco styles and became very popular.
Also, Erté also played a huge role during this time period. He is "The Father of Art Deco" for his famous fashion designs.
Egyptian and Greek designs and African tribal patterns inspired the art deco movement.