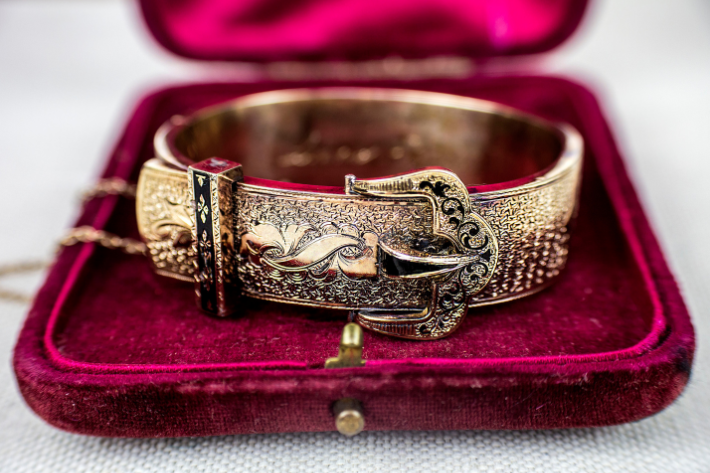 VINTAGE JEWELRY
The vintage trend is hot and the market for vintage jewelry is in demand more than ever before.
It's a great way to add a touch of elegance and sophistication to your wardrobe, and it's also a great conversation starter- as many people are interested in learning about the history behind these pieces. Whether you're looking for a statement piece or a delicate accessory, vintage jewelry is sure to make a lasting impression. But what is it, and where can you find it?
WHAT IS VINTAGE JEWELRY?
Vintage jewelry is defined as any piece of jewelry that was created more than 20 years ago but less than 100 years. It can include everything from costume jewelry to fine estate jewelry pieces. Vintage jewelry is often cherished for its unique design, craftsmanship, and history. Many people enjoy wearing vintage jewelry because it allows them to feel connected to a bygone era.
WHAT IS ANTIQUE JEWELRY?
Antique jewelry is defined as any piece of jewelry that was created more than 100 years ago. Many people use the terms "vintage" and "antique" interchangeably, but there is a distinct difference between the two. Antique jewelry is usually finer and more valuable than vintage jewelry, as it has had more time to appreciate in value.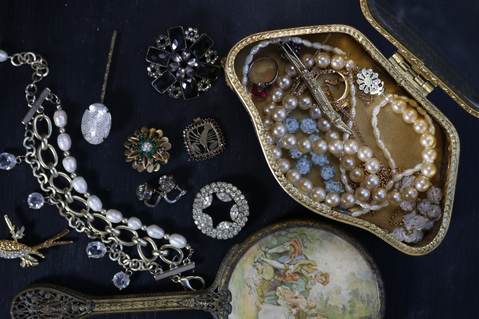 POPULAR VINTAGE AND ANTIQUE JEWELRY ERAS
The Georgian Era is named after the four King Georges who ruled England during this time period. It is notable by its intricate designs and often features delicate flowers, leaves, and scrolls. Many pieces of Georgian jewelry were made with enamel and gold.
The Victorian Era was a time of great change in England. It saw the rise of the middle class and an increase in international trade. The jewelry of this era is often very ornate and reflects the opulence of the times. The artisans of the olden days and paid meticulous attention to detail, often adorning their works with gold, pearls, and coveted gems.
The Edwardian Era was a time of great wealth and extravagance in England. The jewelry of this era is often very delicate and intricate, with a focus on lace-like designs. Platinum and diamonds were used in many of the pieces in this era.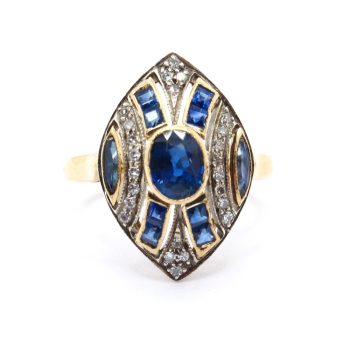 Art Nouveau is an artistic style that emerged in the late 19th century and uses organic shapes and flowing lines. Many pieces were made with gold, silver, and other precious metals.
Art Deco is an artistic style that emerged in the early 20th century and is characterized by its use of geometric shapes and bold, vibrant colors. Many pieces were made with platinum, diamonds, and other precious gems.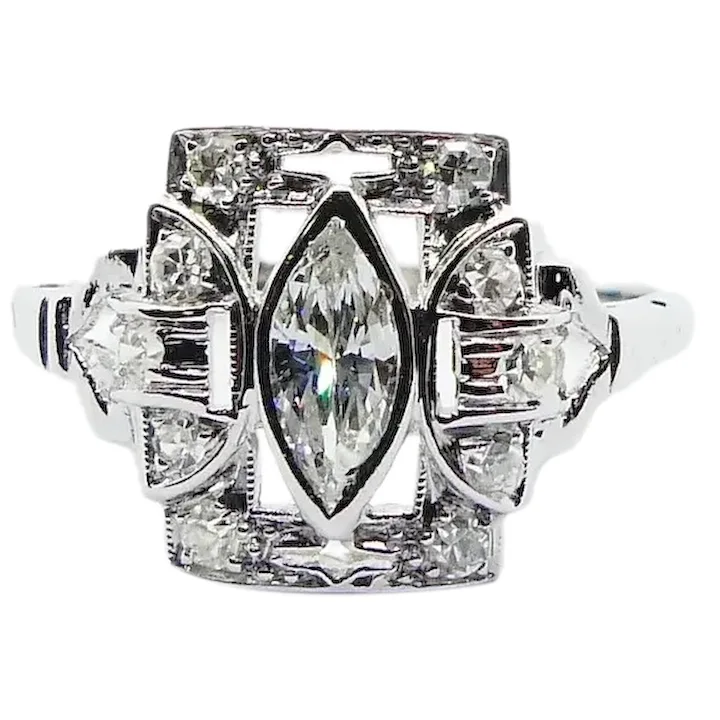 Retro jewelry is defined as any piece of jewelry that was created between 1939 and 1950. It is characterized by its use of bold, dramatic designs. The vast majority of jewelry is made with gold, platinum, and other valuable metals.
ROMANTIC VINTAGE ENGAGEMENT RING STYLES
Everyday there are cookie-cutter engagement rings on the Facebook feeds, in the office, out at dinner, and virtually everywhere else. That's why many women are now leaning hard towards searching for vintage engagement ring styles. Vintage rings offer something up that a modern ring lacks- a unique feel and handcrafted perfection.
Simply put, many vintage engagement rings are from another time. They are rich in history, and beauty and many are one of a kind. It wasn't until the last century that rings were even mass-produced and sold in stores. Instead, prior to that, every ring was made by hand by a master jeweler who paid careful attention to detail.
The best part about opting for a vintage-style engagement ring is that it will never go out of style. In fact, celebrities like Katy Perry, Zoe Kravitz, Penelope Cruz, and Kate Middleton have vintage engagement ring styles. Some of the most popular "I do" ring eras are Victorian and Art Deco engagement rings.
HOW TO CLEAN VINTAGE JEWELRY
Handle vintage jewelry with care. A soft, lint-free cloth is the best way to clean vintage jewelry. Gently wipe the surface of the jewelry to remove any dirt or debris. If the jewelry is particularly dirty, you can soak it with mild soap and warm water. Be sure to rinse the jewelry thoroughly before wiping it dry with a soft cloth.
When cleaning vintage jewelry, avoiding harsh chemicals or abrasive cleaners is important. These can damage the delicate metals and stones used in vintage jewelry. If you are unsure about how to clean a particular piece of vintage jewelry, it is always best to consult a professional jeweler.
WHO SELLS VINTAGE JEWELRY IN TAMPA?
Looking for vintage jewelry in Tampa (or love shopping online with a family-owned, highly-rated jewelry business)? Arnold Jewelers has been around since 1984 and have centered our business around selling estate and vintage jewelry in the Tampa, Clearwater, and Largo areas.
How do Arnold Jewelers get their massive selection of vintage and estate jewelry? We've been buying gold and silver in the Tampa Bay area and beyond and have a pristine reputation for paying the most! Because of this, people sell to the store from around the world. There are so many stunning vintage pieces from each jewelry era.
Want to see the selection for yourself? Shop now!
Want to see the selection for yourself?