3 Things to Consider When Buying an Engagement Ring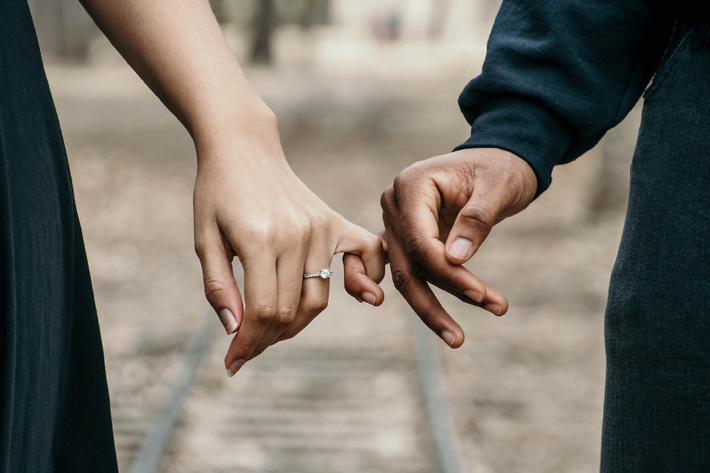 3 things to consider when buying an engagement ring; there are a few things you need to keep in mind. Sure, you want to find the perfect ring for your significant other, but you also need to consider all of your options. Here are three things to think about when shopping for an engagement ring.
HOW MUCH SHOULD YOU SPEND ON AN ENGAGEMENT RING?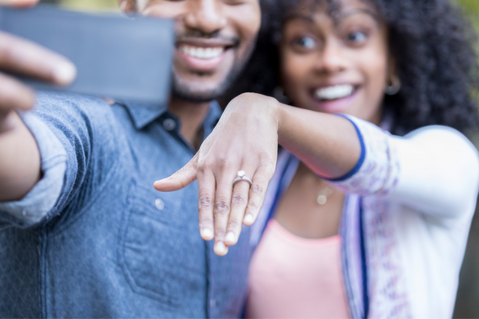 That depends. Typically an engagement ring should cost the buyer roughly 2 months' salary. So with that guide, a person who makes around $30,000 a year should spend roughly $5,000 on an engagement ring, and someone making $75,000 yearly should spend about $12,500 on the ring. There are many exceptions and considerations to this dated rule.
Before buying, the purchaser should consider any current debts owed. The expense of upcoming nuptials, vacations, and more is important to consider too. Choose the amount that you are most comfortable with for your situation and circumstances.
Before you start shopping for the engagement ring of your dreams, be sure to come up with a realistic budget. The 4 Cs (cut, color, clarity, and carat) all factor into pricing, and finding out the most important "C" for your partner will help you learn how to navigate the engagement ring buying process.
Don't lose hope if you're overwhelmed and worried about staying within budget. At Arnold Jewelers, we have certified gemologists who can help find your perfect ring at the right price without being pushed around by other stores' pressure-driven sales tactics!
WHAT TYPE OF ENGAGEMENT RING SHOULD YOU BUY?
This is a very important question. Knowing your soon-to-be fiance's preference in ring styles is extremely helpful. Have they sent you pictures or pointed out rings they've fallen in love with online? Photos of various ring styles they adore can help your certified gemologist find a ring that your love is sure to cherish forever.
So, what if your significant other hasn't shared any pictures of engagement rings that they like? Don't sweat! It's not always easy to figure out which ring style someone prefers without giving away the element of surprise.
Ask their friends or family members for help in this department. Many times discussions about "dream" diamond rings might be had between close friends and family. If that doesn't produce answers, you can also see if your significant other has a Pinterest board, as pinning perfect engagement rings is usually common.
Still unsure of what to do? You can always look through some of the most popular engagement ring styles to get a feel for what rings are trending. At Arnold Jewelers, some couples come in-store together to browse rings. Some might think this takes away the element of surprise, but that is not true. The when and where of the proposal can still be a mystery and produce the same happy results!
HOW DO YOU PICK THE RIGHT DIAMOND FOR YOUR FIANCE'S RING?
A diamond is arguably the most important part of an engagement ring. But with so many different shapes and sizes to choose from, how do you pick the right one? Here's a guide to help you find the perfect diamond for your future fiance.
SHAPE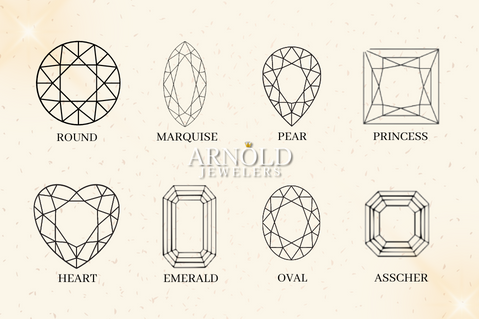 Diamonds are forever, but which shape is going to last the test of time? The most popular shapes for us in 2022 were round at 60 percent of purchases and pear style with 35 percent. Other common styles include marquise and cushion pieces while other notable varieties such as oval have less than 5percent and emerald at 3 percent. It's important to note that when it comes to shape, round diamonds retain more value than any of their counterparts.
COLOR & CLARITY
The diamonds you buy from a jewelry store will be graded using the GIA color scale, which ranges from D (colorless) to Z. Yellow stones can also fall into this range and surpass the Z color grade; these are known as "fancy."  There are many other colors (pink, blue, green, etc.) for those looking to invest in something with more character! The color of a diamond influences prices more than any other category.
Clarities are determined by the level of inclusions or impurities within them. The clarity scale goes from I, SI, VS, VVS & IF; I quality diamonds having visible inclusions all the way up to IF (internally flawless) which is free of any imperfections. The less included a diamond, the more brilliant it will appear. The most popular clarity grades are SI1 & SI2, as these have minor inclusions but are generally impossible to see to the naked eye. For larger diamonds (2 carats and above), we usually suggest an SI2 clarity or higher.
You can check out all of the color and clarity variations here.
CARAT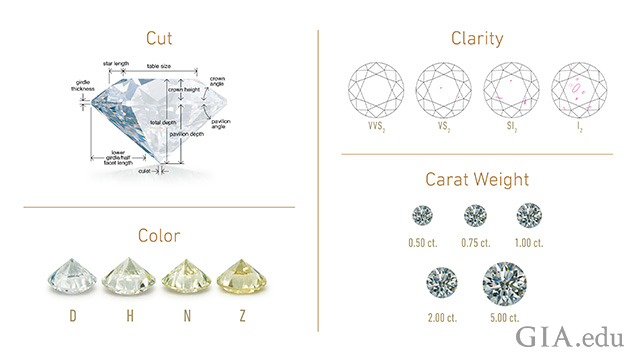 A carat is the physical weight of a diamond. Usually, the bigger it is the higher it's priced – but there's always wiggle room for something bigger in your budget! Sometimes adjusting color or clarity specifications can give you the option that leaves your fiance breathless with its mere size.
When you're looking for the perfect diamond, our experts can help put together a customized ring that will leave them speechless at your proposal.
TIME TO BUY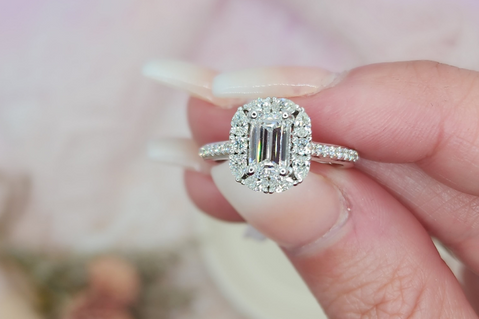 Congratulations! You've made the decision to buy an engagement ring for your significant other. That's a big step and one that deserves some careful consideration. We are always here to help guide you through these decisions in-store or by phone with our team of experts who know everything there is to know about diamonds and rings. So don't wait any longer – come in or call us to get the perfect engagement ring today! We can't wait to celebrate with both of you on your special day!