Can I Customize an Engagement Ring?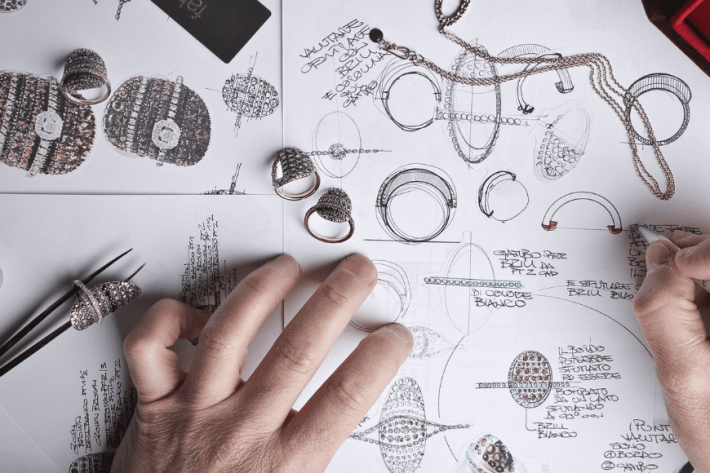 Customizing an engagement ring is a great way to make their forever ring unique to the wearer and infinitely more special. But how do you go about doing it? And does it cost more?
Here are some things to think about when you customize an engagement ring:
HOW DO I CUSTOMIZE AN ENGAGEMENT RING?
There are several methods to personalize an engagement ring, and we've seen it all after 40 years in the jewelry business. Some individuals enjoy creating their own ring from just an idea, while others prefer to begin with a one-of-a-kind ring setting and work their way up. In this blog, we will explain both ways to ensure your customization experience is the very best.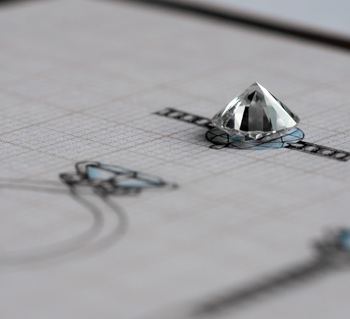 FINDING A TRUSTED FAMILY JEWELRY STORE
Find a family-owned jewelry store with a great reputation for selling quality items at a fair price. There is no better experience than walking into a store that greets (and treats) you like family. The right sales associate will listen to your needs and budget and be able to walk you seamlessly through the customization process.
Note of Caution: Beware of sales associates that try to push a product that is clearly out of your budget. Impulse and pressured buys are always filled with regret. Be sure you are comfortable with the store and the sales associate, and that their suggestions make sense for your requirements and budget.
BRINGING PHOTOS TO THE JEWELRY STORE
Get an idea of the style you and your partner like by looking at photos of engagement rings online, or in magazines. Bring these ideas with you when you visit the jewelry store so the jeweler can understand what you're looking for. We often have customers show us different parts of various rings they love, and combining these components into one stunning engagement ring is easy.
Have your eye on something designer but don't have the designer budget. Customers often show us designer rings they adore, and we can make a very similar ring for them at a fraction of the cost!
Are you attempting to pull off a complete surprise proposal and can't discuss their preferred ring style? Try finding your partner's Pinterest Board or asking a family member or best friend for your love's preference in ring styles.
Once you've shown off your pictures and created the setting, it's time to discuss the main event: the diamond. Don't worry! We'll cover this topic a little further down in this blog. For now, let's discuss seeing your diamond come to life!
SEEING THE CAD CAM DESIGNS FOR YOUR CUSTOM ENGAGEMENT RING
This is a great way to see your ring before it's made. Computer-aided design (CAD) and computer-aided manufacturing(CAM) allow the jeweler to create a 3D image of your engagement ring so you can see how it will look when it's complete.
Your preferred jeweler will then call you in-store or send you the CAD CAM images online and go over the specifications of the ring with you. Once the design has your stamp of approval, the ring will start the creation process often with a deposit or full payment. Soon the ring of their dreams will become a reality.
But what happens if you have no photos to bring in or any idea where to start in the customized ring process? Don't sweat! You have another customizable option lean on.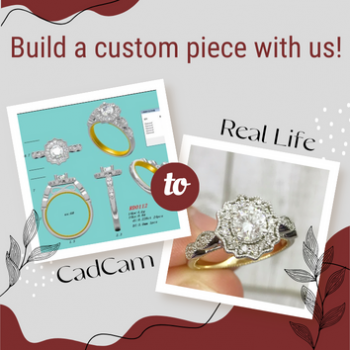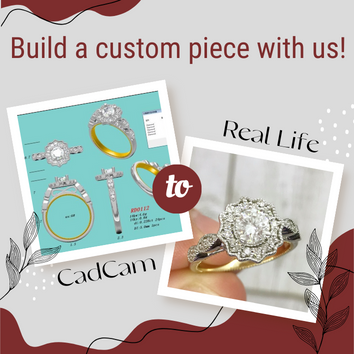 CUSTOMIZE AN ENGAGEMENT RING BY CHOOSING A SETTING
One way to make your engagement ring stand out is to choose between unique settings for engagement rings. Does your partner fancy a nontraditional metal, like rose gold or palladium, or would they prefer a trendy setting style, like an invisible or halo setting? Seeing ring settings in a showcase will help you visualize the infinite possibilities of building the perfect engagement ring.
The right jeweler will ask your budget, the size of the stone you're looking for and be able to provide a few different setting styles within your budget to get the creative juices flowing. If you're still unsure where to start, try looking online for settings for engagement rings or in magazines for inspiration and bring these ideas with you when you visit the store.
HOW MANY CARATS SHOULD AN ENGAGEMENT RING BE?
The size of the diamond is totally up to you! But keep in mind that a bigger diamond may cost more. One with near perfect clarity (no inclusions visible to the naked eye) will also increase cost more so than one with some inclusions. So, it's important to find a balance between size, quality, and price that works for you.
Keep in mind that the diamond isn't the only thing that determines the ring's overall size. The setting can make a big difference too. A cathedral setting, for example, will make the diamond look bigger because it extends up and out from the band. Whereas a bezel setting will make the diamond appear smaller because it sits low on the finger and is surrounded by metal.
These are just a few things to think about when you're looking to customize an engagement ring. So start brainstorming and make your dream ring a reality!
Need more help picking out a diamond for engagement ring? Check our our Diamond Buying Guide for information on the 4C's when diamond shopping.
WHAT'S A GREAT SUBSTITUTE FOR A DIAMOND
If you want your engagement ring to be truly one-of-a-kind, consider choosing a less common gemstone as a substitute for a diamond. Common alternate gemstones include sapphire, rubies and emeralds. These gemstone rank high on the Mohrs Scale of Hardness, making them durable enough to wear every day.
Keep in mind that colored gemstones will likely cost less than a comparable diamond. So, if you're working with a tight budget, choosing a colored gemstone could be a great way to get a bigger stone for your money.
When shopping for an alternate gemstone, it's important to pay attention to the quality of the stone. Just like with diamonds, you'll want to look at the color, clarity and cut of the gemstone. The better the quality, the more expensive the stone will be. But remember, even stones with some imperfections can be beautiful. So don't rule out a stone just because it doesn't have perfect clarity.
DOES CUSTOMIZATION COST MORE?
The cost of customization depends on several factors, including the type of customization you want, the level of detail involved, and the amount and size. Customization can range from a simple engraving to an entirely new design, so be sure to discuss your budget with the jeweler before starting the process.
Customizing an engagement ring is a great way to make it unique and special to the wearer. Be sure to discuss your budget with the jeweler before starting the process, and keep in mind that a larger diamond will
Customizing an engagement ring doesn't have to be complicated or expensive. With a little bit of guidance, you can find or create the perfect engagement ring that will symbolize your love for years to come!
TAMPA JEWELERS
If you are looking for a jeweler in Tampa, come to Arnold Jewelers. We've nee in business since 1984 and are the premier Tampa Jewelers in the Bay Area. Come let us show you the Arnold difference. Our Tampa store is located on Seminole Blvd, right in the heart of Largo. We're just a short drive from Clearwater Beach and minutes away from St. Petersburg.
Arnold Jewelers specializes in engagement rings, custom jewelry design, watches, estate jewelry, and more. Our expert jewelers and gemologist can help you with all of your jewelry and customization needs. Contact us today!